Why Joe Jacoby Should be in the Hall of Fame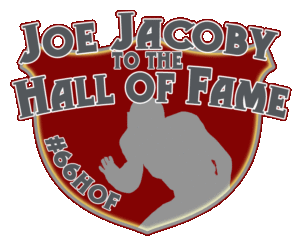 by Steve Thomas
Update, September 3, 2016:
Congratulations, Redskins fans. Progress was made last year in the quest to see #66 enshrined in the Pro Football Hall of Fame – Joe was named a finalist for the first time ever. The voters are starting to see the error of their ways, and that is good. However, since he wasn't enshrined as a member of the class of 2016, our job is not finished. The Hog Sty is therefore beginning the Joe Jacoby for Hall of Fame campaign again – we will discuss this on the show, tweet about it, and ask you to contact the voters every single week again this season, and we might just bring a special guest or two back on the show to talk about the campaign again. Your job will be the same as last year – contact these voters, respectfully tell them what you think, and ask them to enshrine Joe in the Hall of Fame. Use our suggested email or write your own, but as always, no rudeness, snark, or attempts at humor, because all of that will backfire and not help the cause. Tell them what you think in a simple but direct manner. Your voice has already made a difference – do you think it's an accident that Joe was selected as a finalist in 2015 for the first time? Let's complete the job this year and get that vote over the finish line for the 2017 class.
Good luck – let's hope that next year at this time, this column is a celebration of the Redskins' newest Hall of Fame selectee!
---
Let's get one thing straight right off the bat: it is a crime against football that Joe Jacoby, No. 66, was not enshrined in the Pro Football Hall of Fame a long time ago. After The Hog Sty had the honor of speaking with Joe on the podcast, we realized that he is a humble guy and a team player who is not going to toot his own horn and tell everyone about his greatness, or even the team's greatness. He and the rest of The Hogs let their play on the field and the Super Bowl victories speak for themselves, and leave the praise to others, even to this day. These are quiet, proud, "working class" football players. The problem, of course, is that this works against them when it comes to convincing media members to vote for them for the Hall of Fame. We therefore decided to try and do something to help. I could spend a whole lot of words debating why the voters have snubbed Joe thusfar, but personally, I would rather tell you why they have been making a mistake and how you can help rectify this mistake – so read on.
What do you think of when you think of Joe Jacoby? Most likely, The Hogs, rushing excellence, Super Bowls, dirty, grass-stained uniform, right? All of that is accurate, but there is quite a bit more to his career and place in football history. The preliminaries are well known: undrafted free agent out of college, 13 years in the NFL (1981 – 1993, all with the Redskins), four Pro Bowl selections, 3 All-Pro selections, and named to the 1980s All-Decade team. All of those honors, by themselves, should merit his enshrinement. It is the unquantifiable and intangible, though, that really shows why Joe is a Hall of Fame player and why it is such an oversight for voters to refuse him thusfar. He was the leader of an offensive line that created one of the most feared running games in the league in the early 1980s, blocking in for John Riggins to two Super Bowls and a Hall of Fame career, then George Rogers to the 1987 Super Bowl, then Timmy Smith – a guy who was otherwise barely an average NFL player – to a record 204 yards in the 1991 Super Bowl. He was the leader of an offensive line who blocked for three separate Super Bowl winning quarterbacks, something that is unique in NFL history. All of that is well known, though, and while by itself is reason enough to enshrine Joe, his candidacy is about much more than that.
Please understand that Joe Jacoby holds a special place in the development of the NFL left tackle. He was one of the very first of a new breed of left tackle who had enormous size as do the tackles of today's game (which was just flat-out not the case prior to Joe), but was also agile. A player like Joe was unheard of prior to his arrival. Michael Lewis, in his 2006 book, The Blind Side (which was made into an Oscar-winning motion picture about the life of current Panthers' tackle Michael Oher), wrote about Jacoby, stating that the Redskins first gave Joe the left tackle job because, at 6'7" and 315 pounds, plus strength and mobility, he was the "more like left tackle of the future" – in other words, he was a singularly unique talent. Joe was 3-4 inches taller and 50 pounds heavier than the average left tackle of his day (Jackie Slater? 6'4", 277; Dan Dierdorf? 6'3", 275; Ron Yary? 255 lbs; Anthony Munoz? 278 lbs.), but moved like a much smaller man. According to Lewis, the Redskins brought Joe in specifically to stop Lawrence Taylor – yes, the guy known as probably the most feared pass rusher ever. Incidentally, the most glaring play by Taylor against the Redskins, which was the November 18, 1985, game where Taylor infamously broke Joe Theismann's leg, took place without Jacoby on the field due to a knee injury; that in and of itself tells you something about Joe's value. Joe was the leader of a football revolution that recognized the value of the left tackle, specifically because of what Jacoby, at his size and weight, did against the fearsome, hall of fame pass rushers in the NFC East in Philly, New York, and Dallas like the aforementioned Taylor, Reggie White, Randy White, and Harry Carson. Joe successfully battled all of those players twice a year every season. Yes, Joe was that good. How is that not Hall of Fame-worthy?
Do you want a "hall of fame-worthy moment"? I will give you two. The first was John Riggins' famous 43 yard touchdown run on January 30, 1983, that gave the Redskins the lead over Miami in the fourth quarter of Super Bowl XVII. The play call was I-right 70 Chip, and the lead blocker who opened the hole for Riggins was Joe Jacoby. Watch the play again (https://www.youtube.com/watch?v=gI0XIXJNYo4), and pay attention to the gigantic hole on the left side of the line – yes, it was #66 who sprang Riggo out to the second level. The play was the deciding play of the Super Bowl and likely the greatest play in franchise history – it cannot get much bigger than that for an offensive lineman. The second moment is the 1991 season: does everyone remember that The Hogs surrendered a grand total of 9 sacks over the 16 game season? Nine – that's it. That is a truly remarkable accomplishment, particularly in the NFC East with an immobile quarterback like Mark Rypien, and it was led by the big left tackle who faced every team's best rusher – from Lawrence Taylor and Reggie White on down the line. All Redskins fans know, of course, that this offense was one of the most prolific in NFL history. It is pretty tough for an offensive lineman to have any "moments", but Joe Jacoby's career was full of them.
Twelve offensive tackles who played from 1976 to the present have been enshrined in the Hall of Fame: Larry Allen, Dan Dierdorf, Walter Jones, Bruce Matthews, Anthony Munoz, Jonathan Ogden, Orlando Pace, Willie Roaf, Art Shell, Jackie Slater, Rayfield Wright, Ron Yary, and Gary Zimmerman. The honest and objective analyst knows that Joe is clearly and easily a leading member of that group of tackles. How many of these players accomplished more in their careers than Joe? Is there even one? How many of these players had Joe's combination of size and mobility? Zero. How many of these players can claim to be the leader of a nickname-worthy offensive line known as one of the most accomplished in the history of the game? Zero. How many of these players were leaders of four Super Bowl teams, including three wins? Zero.
Here's the bottom line: in an age where the left tackle was undervalued and undersized, Joe Jacoby ushered in the new breed of tackles who are now heralded as the cornerstones of an offense. There is a reason why, in today's game, the left tackle is usually the second-highest paid player on the field – the success of The Hogs showed teams the value of an elite, athletic left tackle who was outstanding in both run and pass blocking. Joe Jacoby, specifically, was at the forefront of a seismic change in offensive line play. To me, the test of whether a player is Hall of Fame-worthy is whether the story of the game of professional football can be told without that player. For Joe Jacoby, the answer is a clear and definitive no: any complete summary of the game must mention Joe's contributions. As great as Hall of Famer Russ Grimm is, I am sure that Russ would be the first to tell everyone that Joe was key to the success of The Hogs and those "golden era" Redskins teams. The Hall is incomplete without his bust.
Steve, I agree, but what can I do about it?
Steve, I agree, but what can I do about it?
Here's a quick education on Hall of Fame enshrinement: the Hall of Fame inductees each year are ultimately selected by the same group of fuddy-duddy voters each year, one from each NFL city plus a group of supposedly impartial national writers (for a total of 46), some of whom have been on the panel for way, way too long, and some of whom have entirely too much influence over the other voters. The composition of the panel changes very little each year. The process begins with a large group of players initially nominated, and that list is slowly whittled down to 25 semi-finalists, then 15 finalists over the course of each year. The committee of writers meets during Super Bowl week to debate and vote on the final selectees in a "top secret" meeting in which no writer is required to disclose his vote. In that secret meeting, the writer who represents the city of the nominee's team is responsible for making a presentation about his candidate to the entire group of voters. At no point is the player himself or the team involved. Now, we can cover the wisdom of this process some other day (hint: there are serious problems), but it does not really matter – for these purposes, this is the process under which we have to operate. These voters, like all people, hold biases and have personal opinions, sometimes born from their personal interactions with those players and their own personal biases, despite the fact that the Hall of Fame rules provide that only a player's contributions on the field should be considered. Think back to Art Monk's selection – remember how many years it took for his selection, despite his having the greatest wide receiver stats ever when he retired? The reason was that there were a number of writer-voters (hello, Peter King; hi, nice to meet you, Paul Zimmerman) who held steadfast in their personal beliefs for years born out of anti-Redskins bias (at least in my opinion) in spite of Art's obvious worthiness and held up Art's selection for years. However, these writers can be swayed. For example, noted Redskins basher Peter King was staunchly against Art Monk for many years, and wrote about it at Sports Illustrated almost every year from 1999 to 2005. In 2006, he started to change his mind after receiving years of complaints from fans (including this fan) and NFL insiders alike, and ended up supporting Art's candidacy in 2006. King's journey from "anti-Monk" to "pro-Monk" is documented here: https://artmonk.wordpress.com/hall-of-fame-voters/peter-king/.
It can be fairly said that the fans had a direct effect on eventually swaying the Hall of Fame voters to vote for Art. The same can be done for Joe Jacoby. Below is a list of every current Hall of Fame voter, according to the Pro Football Hall of Fame website, and the email address, twitter handle, or other electronic communications medium that we could find for each one. You will see that David Elfin is the Washington voter who represents the Redskins and is responsible for advocating for Joe. By all accounts, including opinions shared with The Hog Sty by more than one local beat writer, Mr. Elfin has done a great job. Write him, because that is important, but he is not who we need to convince – it is all of the other voters who need convincing. Therefore, we ask that each and every one of you EMAIL AND TWEET AT EVERY VOTER and tell him what you think. Contact each one multiple times, as many as you can. You can either cut and paste the email below or write your own message (if you write your own message, please be respectful to the writer; rudeness and snark will not help the cause – it will likely get you ignored):
What You Can Do to Get Joe Jacoby in the Hall of Fame?

We ask that each and every one of you EMAIL AND TWEET AT EVERY VOTER and tell him what you think. Contact each one multiple times, as many as you can. You can either cut and paste the email below or write your own message

Dear __________:

Please vote for Joe Jacoby to be enshrined in the Pro Football Hall of Fame. Joe was a revolutionary left tackle who led his team to 4 Super Bowl appearances, including 3 Super Bowl victories, blocked some of the greatest pass rushers in the history of the game, was the leader one of the greatest offensive lines in NFL history, The Hogs, and led a feared running game that put a running back into the Hall of Fame himself. The story of the National Football League cannot be told without Joe Jacoby. Please vote for him to be enshrined this year.
Arizona: Kent Somers
Arizona Republic
FOX/Atlanta
kent.somers@arizonarepublic.com
@kentsomers
Atlanta: Len Pasquarelli
Baltimore: Scott Garceau
WMAR-TV
Scott@1057thefan.com
@ScottGShow1057
Buffalo: Vic Carucci
Buffalo News
vcarucci@buffnews.com
@viccarucci
Carolina: Darin Gantt
ProFootballTalk
gantt@profootballtall.com
@daringantt
Chicago: Dan Pompei
Bleacher Report
Click here to contact
Cincinnati: Joe Reedy
Fox Sports Ohio/Sportstime Ohio
https://www.facebook.com/reedywrites
@joereedy
Cleveland: Tony Grossi
ESPNCleveland.com/WKNR Radio
grossipr@me.com
@TonyGrossi
Dallas: Rick Gosselin
Dallas Morning News
rgosselin@dallasnews.com
@RickGosselinDMN
Denver: Jeff Legwold ESPN/ESPN.com
@Jeff_Legwold
Detroit: Dave Birkett
Detroit Free Press
dbirkett@freepress.com
@davebirkett
Green Bay: Pete Dougherty
Green Bay Press-Gazette
pdougher@greenbay.gannett.com
@PeteDougherty
Houston: John McClain
Houston Chronicle
Click here to contact
@McClain_on_NFL
Indianapolis: Mike Chappell
RTV6 – ABC Affiliate Indianapolis
Jacksonville: Sam Kouvaris
WJXT-TV
skouvari@wjxt.com
@samkouvaris
Kansas City: Randy Covitz
Kansas City Star
@randycovitz
Miami: Armando Salguero
Miami Herald
asalguero@miamiherald.com
@ArmandoSalguero
Minnesota: Mark Craig
The Minneapolis Star-Tribune
@markcraignfl
New England: Ron Borges
Boston Herald
@RonBorges
New Orleans: Jeff Duncan
Times-Picayune
jduncan@nola.com
@JeffDuncan_
New York (Giants): Bob Glauber
Newsday
bob.glauber@newsday.com
@BobGlauber
New York (Jets): Gary Myers
New York Daily News
Click here to contact
@garymyersNYDN
Oakland: Frank Cooney
The Sports Xchange
fcooney@sportsxchange.com
Philadelphia: Paul Domowitch
Philadelphia Daily News
pdomo@aol.com
@pdomo
Pittsburgh: Ed Bouchette
Pittsburgh Post-Gazette
@EdBouchette
St. Louis: Bernie Miklasz
St. Louis Post-Dispatch
@miklasz
San Diego: Nick Canepa
San Diego Union Tribune
Click here to contact
@sdutCanepa
San Francisco: Nancy Gay
@nancygay
Seattle: Mike Sando
ESPN.com
@SandoESPN
Tampa Bay: Ira Kaufman
Tampa Tribune
@IKaufmanTBO
Tennessee: David Climer
The Tennessean
dclimer@tennessean.com
@DavidClimer
Washington: David Elfin
DavidElfinonSports.com
@davidelfin
PFWA: Darryl Ledbetter
Atlanta Journal-Constitution
@dorlandoajc
At Large: Howard Balzer
The Sports Xchange
HBalzer@sportsxchange.com or HBalzer@aol.com
@hbalzer721
At Large: Jarrett Bell
USA Today
jbell@usatoday.com
@JarrettBell
At Large: John Clayton
ESPN
Click here to contact
@ClaytonESPN
At Large: Jason Cole
BleacherReport.com
Click here to contact
@JasonColeBR
At Large: John Czarnecki
FOXSports.com
* It looks like John moved on from Fox Sports
* whereabouts unknown
At Large: Clark Judge,
Talk of Fame Network and Yahoo Sports Radio
@clarkjudgeTOF
At Large: Peter King
Sports Illustrated
* Appears as though the only way to contact
him now is twitter: @SI_PeterKing
At Large: Ira Miller
The Sports Xchange
imiller@sportsxchange.com
At Large: Sal Paolantonio
ESPN
@SalPal_ESPN
At Large:Vito Stellino
Florida Times Union
vito.stellino@jacksonville.com
@vitostellino
At Large: Jim Trotter
ESPN
@JimTrotter_NFL @NFLCharean
At Large: Charean Williams
Ft. Worth Star Telegram
cjwilliams@star-telegram.com
At Large: Barry Wilner
Associated Press
@wilner88
One note: David Elfin's website states that he is retiring from the coverage of sports; we do not know what it means with regard to his Hall of Fame vote; this is important because, as I stated above, he is Washington's representative at the selection meeting. Also, we know that there are a few without email addresses. Some of these writers do not have publicly available email addresses, at least that we could find; for example, the cowards at ESPN management do not allow their writers to have public email addresses, for the most part. We will update this post if we uncover any more. If you know of any of them that are missing, please let us know. In the meantime, please start writing!

Our Interview with Joe Jacoby