You Think You're Tired of the Kirk Drama, What About Jay Gruden?
January 9, 2018
By Richard Rogers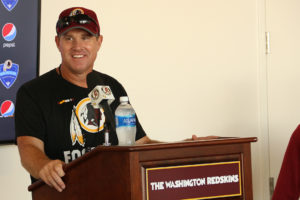 Jay Gruden's head coaching record over the past four seasons with the Washington Redskins is 28-34-1. Kirk Cousins' record as a starter with the Redskins is 26-30-1.  Both have losing records but Gruden will most likely be coaching for his job next season. Kirk, on the other hand, could be come the highest paid NFL player in league history.  It's the nature of the business.  Coaches, and quarterbacks, get little of the credit and most of the blame.  Kirk will get paid this off-season. Heck, he's already been paid 44 million dollars over two seasons.  But this charade is wearing thin.
Kirk recently did a lengthy interview with Grant Paulsen and Danny Rouhier on 106.7 The Fan.  In that interview, he talked about the progression of contract talks since 2015, confirming some of the things we already knew and clarifying misconceptions among fans and media. But at this point, who cares? I know Jay does, and he's made it clear that the days of the one-year deal are up.  Either get a deal done or move on. He wants to know who his quarterback will be moving forward. Jay's words from his end of season presser have been parsed and chopped and overanalyzed over the past few days.  Some have taken his words as a tepid endorsement of Cousins. I take another view. Maybe Jay is just tired. He's tired of the questions.  He's tired of the contract talk and perhaps he's tired of uncertainty at the position period.
Think about this.  Since Jay Gruden was hired as head coach in 2014, there has been drama.  He's had to deal with Robert Griffin III. He's had to deal with the drama of the Scot McCloughan hiring and firing. He's faced endless questions about his feelings about Kirk and if he wants him or not. It's not a coincidence that Jay interjected Colt McCoy's name into the conversation. I believe that Jay believes in Colt. Colt's a gunslinger, albeit an inferior passer in comparison to Kirk, but he comes with low expectations. Maybe Jay just wants to be able to coach.
I'm not advocating (or not) for Colt McCoy. I'm not a member of the "Cult of Colt".  But I can't help but to think that Colt has qualities that Gruden endears himself to.  Both have been written off. Colt has been described as a career backup. Jay was deemed not good enough for the NFL. In a recent radio interview, he joked about not being given a shot to beat out Ty Detmer. Every once in a while, Gruden lets it be known that he was skipped over. He did make quite a name for himself in the Arena Football League. But it's the Arena Football League. Jay Gruden made less that thirty grand a year as a player, and later he scouted, picked and coached his own players. It's no mystery that he resented Robert Griffin III, calling him "coddled". He eviscerated him when he got too cocky. Jay's a blue-collar guy. He seems to enjoy hard working underdogs like Ryan Grant and Colt McCoy. Griffin had his ego. Kirk has his "process".  He seems done with the whole situation.
The Redskins brass need to make sure the coach has what he needs to succeed.  It starts at the quarterback position, whether that's Kirk, Colt or a free agent quarterback yet to be named. It's unbelievable that we're back at this same spot. We had TWO quarterbacks and now, we may have none.
Jay is a coach who, at times, looks above average, and other times below average.  But I think he deserves peace at the position. He's going on five years and has yet to pick his quarterback. He's spent the last four years developing Cousins, who's now had three consecutive 4,000 yard passing seasons. He doesn't get enough credit for that, but I sense that Kirk is not his guy.  They seem to be opposites.  Whatever the case, the Cousins' contract situation has worn on us all as fans. I can only imagine how Jay feels.